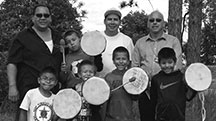 By Brett Larson, August 7, 2015
The old Budget Host Hotel on Hwy. 169 in District I has a new name: Minobimaadiziwin: The Good Way of Life. The name was chosen after staff found a board game with the name. It seemed appropriate given the developing philosophy of the hotel.
Minobimaadiziwin still operates as a hotel under state and county laws and licenses, but it's more than a hotel. It's a place where homeless people, Indian or non, can spend a couple days or weeks getting things turned around and headed in the right direction. The hotel has a voucher program and reduced rates for Band members, but it's open to the general public as well.
The Band considered various uses for the building, including a halfway house or government offices, but in the end it was decided it should remain a hotel with special programs for homeless people. Since it's a business that is not on trust lands, it can't limit service to Band members but welcomes anyone who needs a place to stay. Even so, Minobimaadiziwin definitely has an Anishinaabe identity that goes beyond the name.
The hotel opened in December, and in February Richard Hill came on board as manager. Richard had been the general manager of the Band's Housing Department, where he came to understand not only the housing needs of Band members but other needs as well: financial, physical, mental, social and spiritual.
During his time at Minobimaadiziwin, Richard has tried to implement a philosophy that makes the hotel unique.
"In five years as general manager of housing, I've seen a lot of the barriers our Band members deal with," Richard said. "I've built relationships with family services, public health, the tribal police and other departments. I was able to capitalize on that to identify what the barriers are and reach out to the departments to give our guests a hand up to get to that next step."
Richard admits that he's had some negative encounters with some of the guests due to his previous role in the Housing Department, but he puts that in the past. "We don't discriminate against anyone," he said. "I tell them right up front, today's a new day. Let's focus on tomorrow, not yesterday."
The hotel has 28 rooms as well as meeting space available, where a hand drum class was held recently, and a beading class is in the works for the future.
On the grounds are a playground, basketball hoop, volleyball court, tetherball pole and barbecue grill.
The hotel also hosts a Wellbriety meeting on Saturday evenings at 6:30.
Richard would like to add a sweat lodge soon.
The casino provides a free shuttle service to bring guests to the government center, community center, Grand Market, casino or the movie theater.
On Friday, July 17, Richard invited Steve Lewis and Nancy Saboo to conduct a pipe ceremony for residents and anyone else who wanted to participate. Steve opened the morning by passing around cedar medicine and talking about the significance of cedar.
A pipe ceremony and talking circle followed. An elder talked about the importance of the Ojibwe language and explained the significance of the four directions. Another man named shared a pipe song and spoke about the importance of having a foundation in culture. A young father said it was the first ceremony he'd attended in a while, and it was helpful for him.
Richard Hill was born and raised in Iowa, but his birth family was from Lake Lena. After years in the air conditioning industry, he felt something calling him to Mille Lacs. Richard's kids are grown up and on their own, but he's now taking care of six foster children as well as his five stepchildren.
He's also taking the opportunity to learn about Anishinaabe culture. "As we're bringing things like drum classes and pipe ceremonies in here, it's helping me get educated too," said Richard. "A lot of our guests are looking for that spiritual help, and if I don't know it, I can't bring it to them. This gives me the chance to learn it, and then I can help teach."

Note: A previous version of this story, which appeared in the August 2015 Inaajimowin, referred to the Minobimaadiziwin by the nickname "Mino B." The author has since been informed that the abbreviation is inappropriate, and he apologizes for the error.