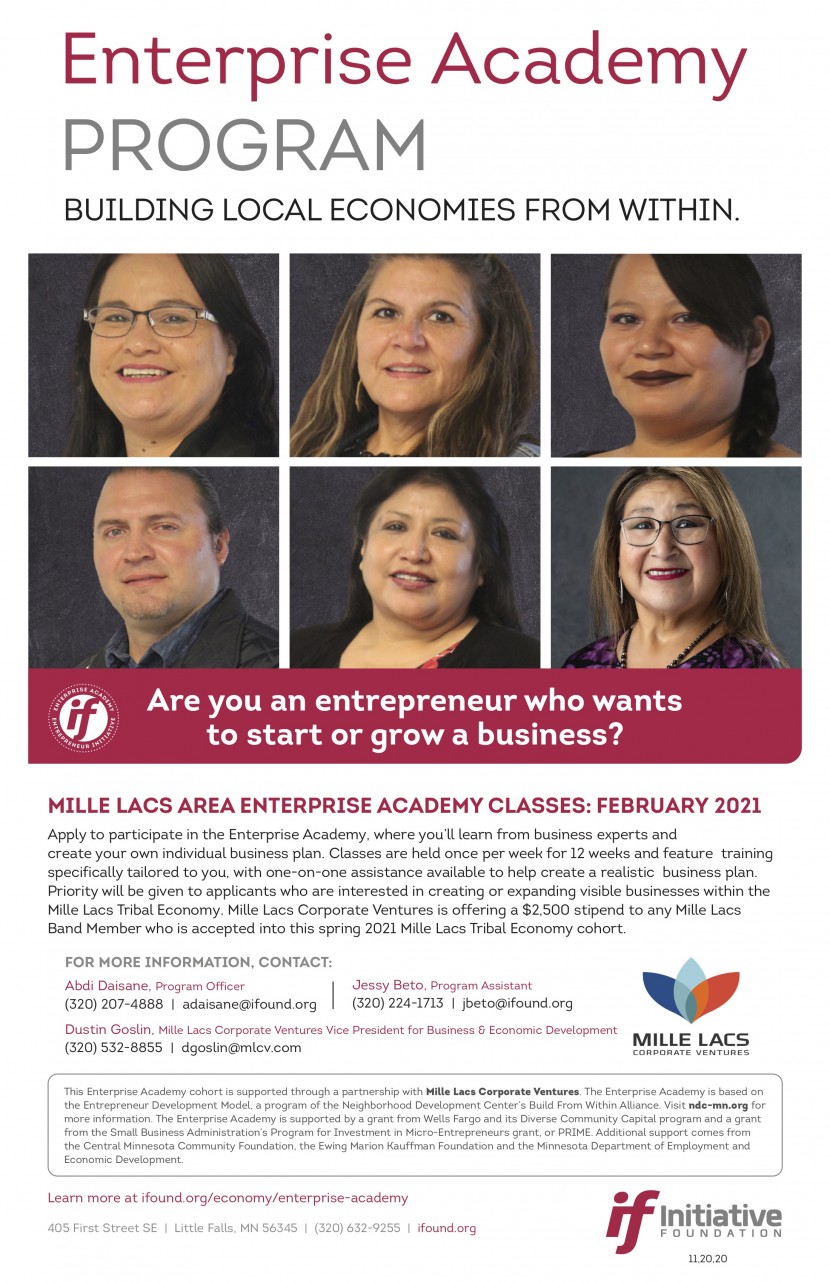 Through a new pilot partnership between Mille Lacs Corporate Ventures (MLCV) and the Initiative Foundation, six Mille Lacs Band members were able to participate and graduate from the Enterprise Academy this fall in Brainerd. The Initiative Foundation's Enterprise Academy is based on the Entrepreneur Development Model, a program of the St. Paul-based Neighborhood Development Center. Participants in the Enterprise Academy learn from business experts and create their own individual business plan.
Classes were held via Zoom once per week for 12 weeks and featured training specifically tailored to the entrepreneur, with one-on-one assistance offered to help create a realistic business plan. There have been seven Enterprise Academy cohorts completed so far in the region. The fall 2020 Brainerd cohort was the 7th cohort. MLCV is currently recruiting participants for the spring 2021 Mille Lacs Tribal Economy cohort slated to begin in late February.
The Mille Lacs Band members — Carolyn Beaulieu, Gina Benson, Billie Boyd, Bradley E. Harrington, Ginger Weyaus, Suzanne Wise — were among 16 applicants who applied to the competitive program. In order to secure their seats, applicants had to complete a panel interview and demonstrate their commitment to creating a business. Since many applicants applied, only the most prepared, engaged, and committed people were selected.
Through the rigorous program, the entrepreneurs were challenged to think about all the different factors and market forces that would affect their business. They put together research about how their products and services were going to compete in the marketplace; everything was considered, from price to distribution and marketing. The result was an impressive diversity of business plans including a community-oriented billiards hall, a mobile med spa (that specializes in Botox and fillers), a concrete crafting business (that specializes in Native-inspired headstones), media services (that link traditional Ojibwe ways with contemporary technology), a sober housing facility, and a nonprofit agency for supervised parental visits (that specializes in providing assistance to tribal communities).
While the Enterprise Academy brings a lot of resources to the participants in a condensed timeframe, it is only the first step among many in the journey to owning a business. The next steps for the entrepreneurs can vary and include additional business planning, coordinating financing, searching for a location, completing the legal incorporation documents necessary, etc.
"Although it may seem counterintuitive because of the recent pandemic-induced economic disruptions, it is actually a great time to start a business," said Joe Nayquonabe Jr., CEO for MLCV. "There have been many successful businesses that started as a result of a recession or economic downturn. Netflix, Airbnb, Microsoft, Sports Illustrated, MTV, Warby Parker, Revlon, and Disney, to just name a few. I am confident that our Band members, powered by Ojibwe values and resilience, can tackle anything they set their minds to."