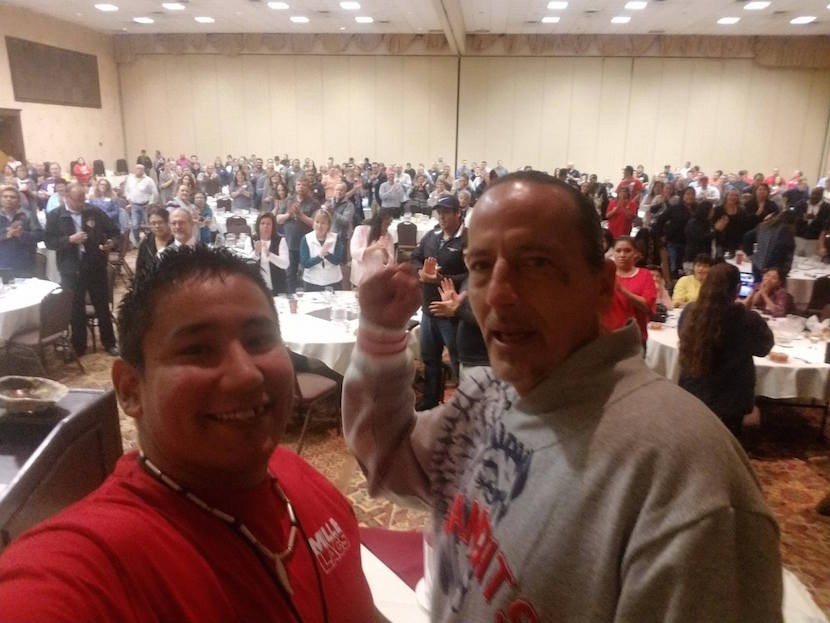 All of Minnesota's sovereign Native nations — seven Ojibwe and four Dakota — came together to share ideas on combating the opioid crisis that is having a disproportionate impact on Native communities.
The Tribal Nations Opioid Summit was held November 13–14 at Shooting Star Resort and Casino on the White Earth Reservation. Mille Lacs Commissioner of Natural Resources Bradley Harrington was one of the masters of ceremonies, and Band member Colin Cash spoke on the first day of the summit about his work with the Sober Squad, a grassroots group of Mille Lacs Band members helping others in recovery.
The Sober Squad also teamed up with members of Natives Against Heroin to share a healing song.
The summit kicked off on each day with smudging, a pipe ceremony, and prayers in Ojibwe and Dakota.
The first day was a general session that included a welcome from White Earth Nation Chairman Terry Tibbetts and introductions of Minnesota Chippewa Tribe (MCT) President Kevin Dupuis, Minnesota Indian Affairs Council (MIAC) Chairman Robert Larsen of the Lower Sioux Community, and Lieutenant Gov. Tina Smith.
Speakers presented on a variety of topics throughout the day:
– Curtis Jackson and Delainey Hardy, Leech Lake Ojibwe
– Colin Cash, Mille Lacs Band

– Douglas Harrington, M.D. on opiate/drug use and heart disease

– Rick Moldenhauer of the Minnesota Department of Human Services on opioid data

– Dennis Olson on the Minnesota Indian Affairs Council on the Governor's Opioid Summit

– Gloria Cobb, Secretary/Treasurer, Lac Du Flambeau

– Randy Samuelson, Director of Peter Christianson Health Center at Lac Du Flambeau

– Commander Kailee Fretland, Clinical Pharmacist/Residency Director, Red Lake Indian Health Service

The second day focused on law enforcement, child welfare, substance abuse, community outreach, and traditional healing. Participants were invited to share their stories and ideas at an open mike.
Photo: Colin Cash took a selfie with James Cross after the two received a standing ovation for their presentation.