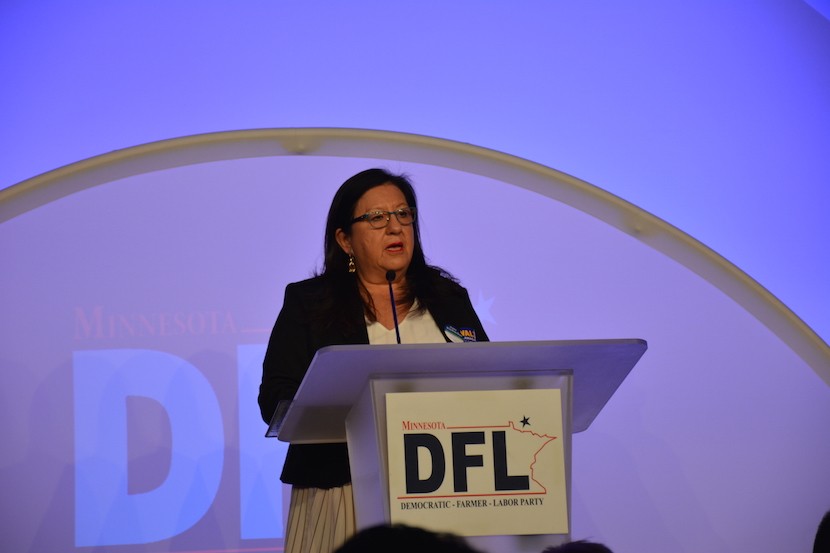 Acceptance Remarks by Chief Executive Melanie Benjamin
Mille Lacs Band of Ojibwe Indians
Orville Freeman Award for Service to Greater Minnesota and Agriculture
Humphrey Day Dinner
May 18, 2018
Miigwech. Thank you. I deeply appreciate this honor.
This award, named for Orville Freeman, recognizes contributions to Greater Minnesota. In our Ojibwe culture, there are two groups of people who are held in highest esteem: the warriors and the elders.
Governor Freeman was a warrior. He was a hero in World War II; he helped Hubert Humphrey get a civil rights plank through the 1948 Convention…and after nominating John F. Kennedy, and feeling alarmed by hatred against Catholics, he made his famous speech against Catholic bigotry. But he paid the price…with backlash from the same Greater Minnesota he worked his whole life to help. Governor Freeman had courage!
This evening is named for Hubert Humphrey. In 1948, Mayor Humphrey challenged the Democratic Party "to get out of the shadow of states' rights and walk forth-rightly into the bright sunshine of human rights." In 1964, he led the passage of the Civil Rights Act.
He helped remake the image of the Democratic Party…which had been tied to white supremacists in the South. Hubert Humphrey had courage!
As Minnesotans, these men always did the right thing…they always sided with human rights.
As the DFL, we are a family. Families are able to have tough conversations…and speak truth to one another.
The truth is… that this award comes at a time when my People, the tribal members of the Mille Lacs Band of Ojibwe, are in the midst of a life-and-death human rights crisis.
It comes at a time when Mille Lacs County…which has the worst crime record of all 87 counties…has ended our 25 year old law enforcement agreement. The opioid epidemic is killing our people… but the County has threatened to arrest our tribal police if they try to protect us.
It comes at a time when elders are being threatened in their homes…by drug dealers who roam our community without fear….because the County attorney refuses to prosecute dealers arrested by tribal police.
When a county government motivated by racism – is holding the protection of our children hostage, demanding that we give up our Reservation in exchange for public safety.
My DFL friends and family…this is the stuff of 1955 Mississippi…not 2018 Minnesota.
Despite all that the Mille Lacs Band has done to spur jobs, economic growth and prosperity in Greater Minnesota – the State government's official position is that the Mille Lacs Indian Reservation no longer exists. Not because it is a strong legal position…it is not. But because in 2015, a few DFL officials decided it was smart politics in our region known for anti-Indian racism.
Tonight, we celebrate our DFL founders who were courageous in the face of injustice. My question is this: Do we as the DFL – still have that same courage?
Before July of 2016, we had 7 drug overdoses on our reservation. In just 2 years since the county ended our agreement, we have had over 80 overdoses and 15 deaths.
The county government does not care about our lives…but we were hoping the State would – because the authority to do so exists.
That hope died when a few state DFL leaders said we would have to settle the issue in federal court… again.
To us, lawsuits mean millions of dollars…and a generation of children scarred by racism. It all happened once before, during our Treaty Rights battle in the 1990's. Most of my staff were little kids then. They will tell you --- it's easy to say "go settle that in court" if you live down here. It's hard to grow up being bullied on the playground because of who you are… up there.
It does not have to be this way in Minnesota, and it should not.
For 163 years, the unwavering position of the United States has been…that our reservation exists. At the federal level, this is a non-partisan issue. The Bush Administration supported us in 2000. The Obama Administration wrote a legal opinion saying our reservation has always existed. And we have received more help from the current Administration… than we ever could have imagined, including sending in a federal police force to support our federally-deputized officers, when the State would not.
With Humphrey, Freeman, Mondale and others…Minnesota was once a leader of civil rights. But on Indian policy, Minnesota has often been an outlier.
There are 573 Indian tribes spread across America…and it is not normal…in this day and age…for a state to be in the business of trying to terminate an Indian tribe's reservation.
Al Franken knew that…he always stood by Indian tribes. Betty McCollum knows that…she has shown amazing bravery on Indian rights…Rick Nolan knows that…and the late Jim Oberstar made speech after speech calling out Representative Sondra Erickson as the most racist lawmaker in the State.
On that note, Miigwech to the 38 DFL'ers who signed the letter of protest against Sondra Erickson for the racist comments she made a few weeks ago. And Miigwech to leaders like Tony Lourey… who has always stood up for the Mille Lacs Band and Native Americans…and of course there many others…thank you!
But to those in our DFL family who have been silent…perhaps out of fear…who have stood on the sidelines…or who have even sided with the anti-Indian hate groups...I ask you to think about what you want our DFL legacy to be. A great man once said, "Silence is the enemy! Apathy is the enemy! Indifference is the enemy!" That man was Senator Corey Booker!
Across the Nation, young people…women…people of color and the working poor are calling upon the Party to return to the social justice values it was founded upon. To find its courage again…to get off the sidelines… and stand by those who have stood by you.
If you lose your soul and your principles, you lose your followers.
We want back the courage of our DFL Elders!
We want you to stand for law, order and justice for all people…not just the majority…and not just when it's easy.
We want you to step into the 21st Century with the bravery the DFL had in the 20th Century!
Tonight, I accept this award not for myself – but on behalf of the proud, strong members of the Non-Removable Mille Lacs Band of Ojibwe Indians – who will never give into racism, who will never give up our rights, and who will never, ever give up the Mille Lacs Indian Reservation!
As much as we appreciate this award, what we need is for you to get into the arena and fight!
Now is a moment in history for strong voices! Now is a moment for courage! To have the courage of our founders! To support all marginalized people and all of our DFL family!
The Mille Lacs Band of Ojibwe needs you, Minnesota needs you, and America needs you!
Miigwech!