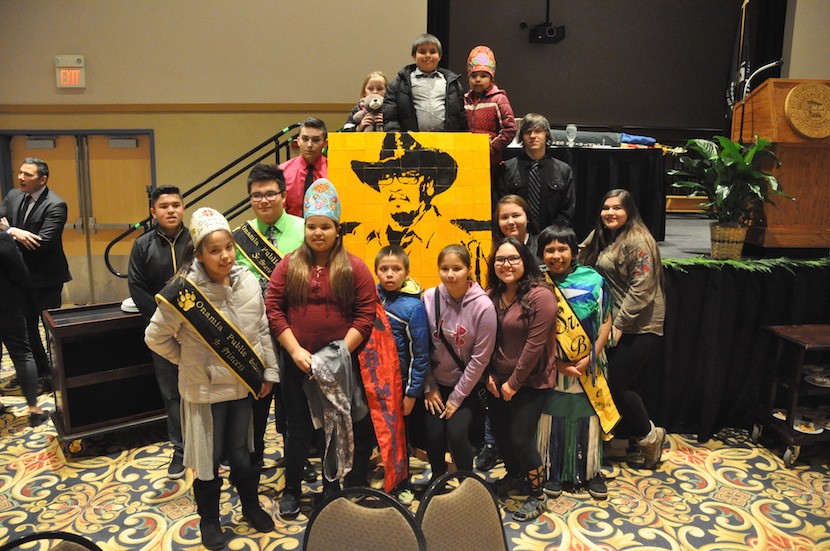 Mille Lacs Band Chief Executive Melanie Benjamin spoke of a "new warriorism" driving Band members to improve their community at the 34th annual State of the Band event January 9 at the Grand Casino Mille Lacs Events & Convention Center. In her State of the Legislative speech, Secretary-Treasurer Carolyn Beaulieu applauded grassroots efforts by groups like Smudge Walkers, Sober Squad, and Natives Against Heroin. Chief Justice Rayna Churchill also addressed the opioid crisis in her State of the Judiciary speech.
The event began with a Flag Song by Little Otter Singers and presentation of the colors by veterans Tony Pike, Quintin Sam, Renee Pewaush, and Larry Heglund, followed by an invocation by Lee 'Obizaan' Staples.
Obizaan gave a brief translation of his prayer, saying he offered tobacco to the Manidoog, acknowledged the Drum, and thanked the Drumkeepers. "We have 11 drums on this reservation, and it is from there that we get our help as a people," said Obizaan. "I asked that those Manidoog would look kindly on us as a people and give us help, especially with the drug abuse on our reservation."
Obizaan encouraged Band members to attend ceremonies, saying it would nourish their Anishinaabe spirit. "The Chimookomaan wanted us to abandon all these teachings, and that was the worst thing that could happen to us as a people," he said. "Don't discount the importance of those ceremonies."
Corporate Commissioner Joe Nayquonabe Jr. served as master of ceremonies, introducing distinguished guests before turning the microphone over to the leaders of the three branches of Band government.
Legislative, Judicial updates
Secretary-Treasurer Beaulieu began by convening the First Session of the 18th Assembly with a roll call of Band Assembly members Sandra Blake, David 'Niib' Aubid, and Harry Davis, who stood and greeted the crowd.
Secretary-Treasurer Beaulieu summarized the year's accomplishments, which included construction of the Hinckley Community Center, planning for the new District I Clinic, purchase of a dialysis facility in Isle, a new license plate design, and a transition to new budgeting software.
She said the Band's long-term savings are performing well, and a new Revenue Allocation Plan (RAP) will be submitted to the Department of the Interior. Secretary-Treasurer Beaulieu and Commissioner of Finance Adam Valdez gathered input on the RAP last year from Band members in all districts and the Urban area.
Secretary-Treasurer Beaulieu ended on a personal note, saying the new Legislative Women's Gatherings have been
"extremely beneficial to me as a woman and as an elected official for the Band."
Chief Justice Churchill introduced her fellow Appeals Court judges Ramona Applegate and Clarence Boyd and District Court Judge David Christensen. She spoke of the "ripple effects" of the opioid crisis, which has affected everything from families to courts, from law enforcement to schools, and from clinics to surrounding communities.
She called for a "three-branch plan of action" and said she would be calling a meeting with the Chief Executive and Band Assembly.
New warriorism
Chief Executive Benjamin's speech focused on the deep involvement of Band members in addressing the drug epidemic and the need for a law enforcement resolution in Mille Lacs County.
"Over the past year and a half, something has happened throughout our Band community, in every District, in every family, in every home," Benjamin said. "This is the Band's revolution against drugs, crime, violence, and environmental destruction. As a Band, 2017 was not just a year of Band member interest, it was not just a year of Band member activism, it was a year of a new warriorism for the Mille Lacs Band! And it is one of the most profound changes to happen in our community in decades."
"We are fighters who stand our ground, and that is why we are called the Non-Removables," she went on, referring to the Non-Removable Mille Lacs Band, which the federal government publicly recognized as early as the late 1800s. "These Band members are new warriors for justice and peace."
Benjamin reminded the crowd that in 2015, the Band recorded seven drug overdoses. Since Mille Lacs County revoked its cooperative law enforcement agreement with the Band in 2016, the Band has had more than 75 overdoses and 15 deaths. After little to no forward progress and an alarming escalation in overdoses and drug-related deaths, the Band filed a federal lawsuit in November 2017.
"We put off the lawsuit as long as we could," Benjamin said. "The County wanted us to sue on the boundary. The County used the best leverage they had — they stopped law enforcement services."
Benjamin went on to thank the federal government for its suort of the Band and its tribal police department, and to announce that Band member Sara Rice — one of the Band's "new warriors" — will move from interim to permanent Mille Lacs Band Chief of Police.
"I am so humbled by all the Band members who have come forward this year as Warriors," Benjamin concluded. "You give me strength; you give us all strength — because the power of the people is always greater than the people in power!"
For the complete text of the address, click here.
2018 Initiatives
Chief Executive Benjamin previewed numerous initiatives for the coming year, including:
— The opening of new community center in Hinckley, which will be a hub for family and community activities, wellness programs, and cultural offerings, and the groundbreaking for a new District I community center.
— The renaming of the Mille Lacs Band Government Center in honor of the late Marge Anderson, longtime Chief Executive of the Band.
— An initiative to transition more Band renters into home ownership.
— The opening of a Band dialysis center in Isle.
— Continued growth in the Band's non-gaming investments and job creation, as well as small business opportunities for Band members.
— The opening of an auto shop to service Band vehicles and create training and job opportunities for Band members.
— The continuing transition of the Nay Ah Shing School into an Ojibwe language immersion school, and a new pursuit to create a vocational high school.
— Pursuit of a radio station to serve the reservation and provide information to Band members.
— Continued focus on addressing the opioid crisis with a comprehensive, culture-based prevention and treatment approach.
"Band government cannot stop a person from trying drugs or becoming addicted," Benjamin said. "But what we can do is offer help to those who are ready to receive it."