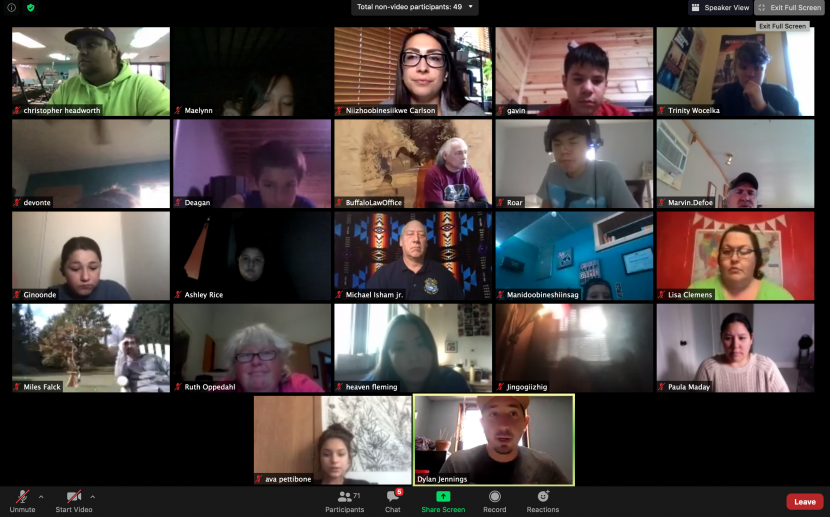 This year's Mikwendaagoziwag (They Are Remembered) ceremony commemorating the 1850 Sandy Lake Tragedy was held via Zoom conference call on Wednesday, September 30. Over 100 Anishinaabe from Michigan, Wisconsin, and Minnesota attended, including tribal leaders and students.
The virtual event was organized by Dylan Jennings of the Great Lakes Fish and Wildlife Commission, who introduced GLIFWC Executive Director Michael Isham Jr. Isham spoke of previous Mikwendaagoziwag ceremonies that started off with smudging and passing of a pipe. He thanked Elders, veterans, and those who work to preserve the culture and traditions of the Anishinaabe, saying, "As long as we have our ceremonies, we will never cease to be Anishinaabe."
He also welcomed students to the event, reminding them that in his day there was nothing taught in schools about the Sandy Lake Tragedy or other tribal history. He said he learned the history by following the Mille Lacs v. Minnesota treaty rights case and listening to Elders like Leonard Sam of the Mille Lacs Band.
After a drum song by the Lac du Flambeau Youth Drum, Henry Buffalo Jr. told the story of the Sandy Lake Tragedy and its aftermath, which led to permanent homelands for Anishinaabe in Wisconsin and Michigan and to the Treaty of 1854.
The Treaty of 1854 gave permanent reservations to the Fond du Lac, Bois Forte, and Grand Portage bands in Minnesota and preserved off-reservation hunting, fishing, and gathering rights. For more on the Sandy Lake Tragedy, see page 17.