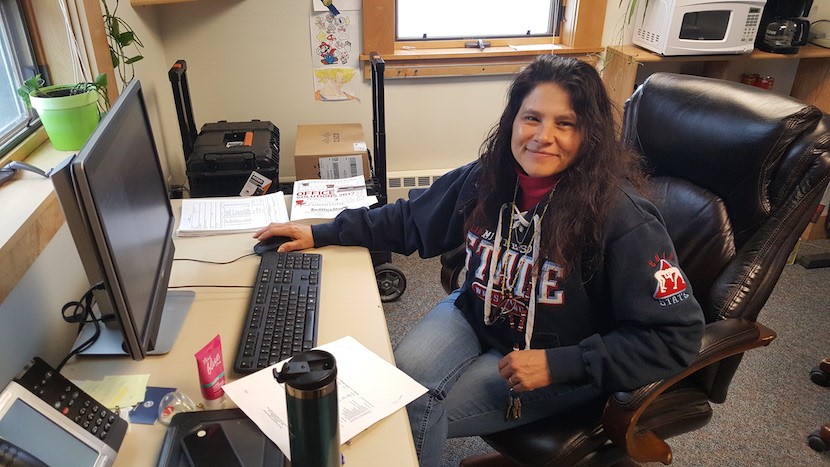 Amikogaabawiikwe Adrienne Benjamin Mille Lacs Band Member
The Chiminising Community Center has been lucky enough to have the same cheerful and welcoming face for 15 years. Carmen Kalk (formerly Green), in her job as the Commmunity Center Administrator, has been a staple of the community, helping community members with issues including licensure, employment, applying for social security benefits, and scheduling private events.
Carmen has two adult children, Ian and Jackson, and is a proud "Nana" to her grandbaby Isaac. In her spare time, you can catch Carmen beading, spearing, ricing, hunting, or spending as much time as she can outdoors. She currently lives in District I with her husband Curt, but was a longtime resident of Isle before her recent move. Through her interview, it became quite apparent that regardless of where she now lives, she holds a special love for the Chiminising Community in her heart.
I asked Carmen to answer some questions about her job and her experience in the community.
Adrienne: How have times changed since you have been in your job?
Carmen: The first thing I would say is the community size, it has almost doubled since I started, so there are many new faces. The other thing that stands out in my mind is that the community now has its own powwow.
A: What do you think that the community center provides to the community?
C: Resources.
A: What improvement could be made, in your opinion, to provide better service to the community?
C: Two things that come to mind would be expanding our services to provide daycare in this community, and the other would be the ability to provide Band identification cards onsite.
A: What is the most difficult part of your job?
C: For me, it has been letting someone go from employment. Recently, I have been very fortunate and have a wonderful and reliable receptionist who is also a Band member, Mandy Behnke.
A: What do you love most about your job?
C: Helping community members with their needs.
A: Name a few of your favorite memories over the years with Elders, community, kids, etc.
C: I have so many, but the ones that mean the most to me are when a community member recognizes and expresses gratitude for the fact that we are fortunate to have a community center in our district. Also, when community members or fellow employees come to me for information or advice. The expressions on their faces make me feel good, knowing that I've helped them in some way.
A: What can people learn from you and your experiences that you've had working with people in this job?
C: Being the program administrator, one must stay current with all available resources and changes to rules regarding those resources. In order to do that, you have to have good communication with all departments within the tribal government.
A: What is the most important aspect of being the first person that someone sees when they enter the community center?
C: Having a friendly, positive attitude!
Photos:
Above: Carmen (Green) Kalk has been the administrator of Chiminising Community Center for 15 years.
Below: Receptionist Mandy Behnke helps Carmen keep things running smoothly in Chiminising.