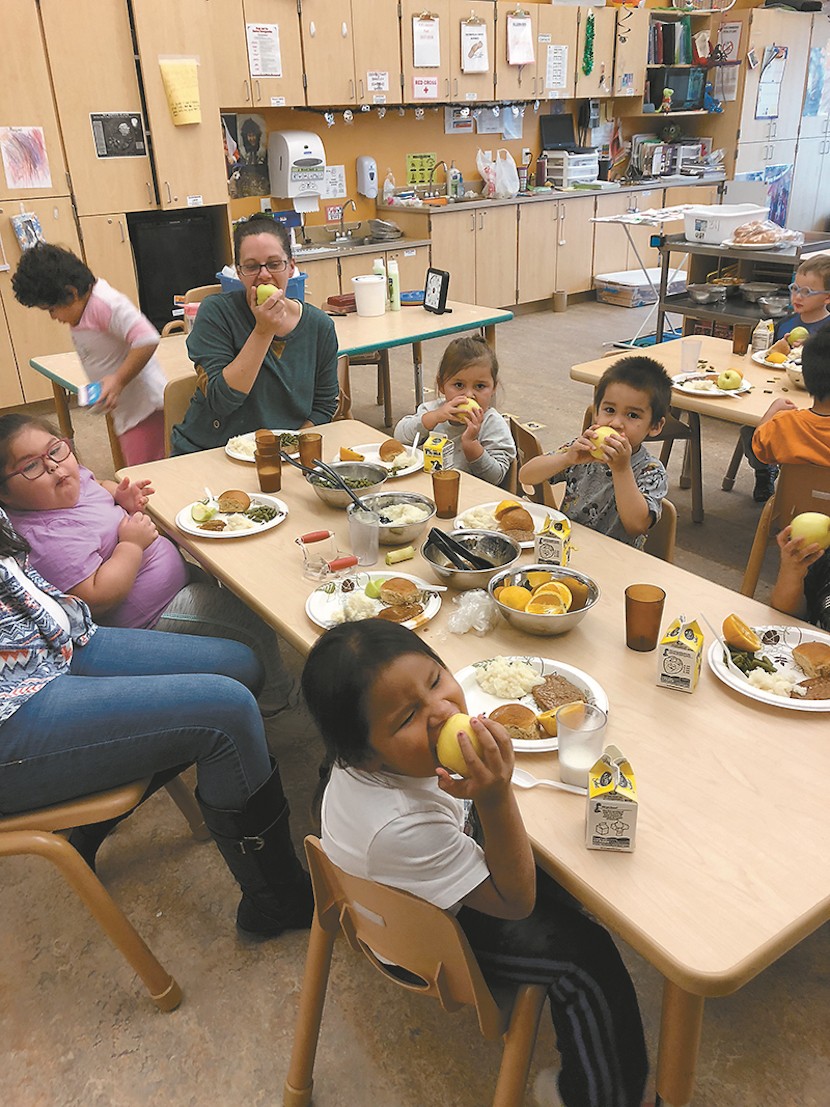 Mille Lacs Early Education (MLEE) recently received a $5,000 grant to start a Farm to Head Start initiative to connect their children with healthy, locally grown foods and support farmers in the community. What better way to celebrate local, healthy foods than having everyone bite into crunchy apples all at once? On October 11, Wewinabi students did just that.
MLEE participated in a multi-state event called the "Great Lakes Great Apple Crunch." During this event, teachers are en- couraged to engage students and families in a full day of apple activities. Following activities, children count down with their peers and teachers, and then bite into a crisp, locally grown apple to make the GREAT CRUNCH! Wewinabi students and teachers crunched with more than 211,000 other Minnesota students and participants from 540 different locations in the official Great Apple Crunch at noon on October 11.
Students in the Waawaashkeshi classroom painted apples, created apple volcanoes, made their own apple playdough, and of course ate local apples. The previous week, Kris Kantorowicz, Head Start teacher in Waawaashkeshi classroom, decided to make applesauce with the students. The children cut the apples and cooked them in a pressure cooker. Students experienced the pleasant fall aroma of apples and cinnamon before eating the delicious snack.
Farm to Head Start is being introduced to help Mille Lacs Early Education teach students about their local food system and serve more fruits and vegetables grown by their neighbors at central Minnesota farms. A different locally grown food item will be featured every week, with an educational lesson and opportunity to taste it. Examples of foods to be being featured in upcoming menus and lessons include apples, butternut squash, carrots, and potatoes.
"The children have really enjoyed learning about nutrition and cooking with new foods," said Kris. "We want to expose children to new tastes and expand their palates. We also want to make healthy choices fun and easy."
Children who participate in Farm to Head Start are more willing to try new foods and have been shown to eat more servings of fruits and vegetables per day. Early Education is a critical time to help children develop healthy eating habits, as taste preferences and eating patterns set at this age can carry forward for the rest of their lives.
Mille Lacs Early Education received the Farm to Head Start grant to partner with the Institute for Agriculture and Trade Policy to launch and refine their initiative over 2018. It is the goal for MLEE to continue Farm to Head Start lessons and local purchasing even after the grant ends, so that healthy, locally grown foods remain a focus. Another goal for Mille Lacs Early Education is to incorporate healthy traditional foods into the curriculum.
"We focus on the whole child," said Kris. "Farm to Head Start is another way for us to encourage the start of lifelong healthy choices."
Mille Lacs Early Education concluded the apple fun with a trip to Gilby's Apple Orchard in Aitkin on October 17, where students saw firsthand how apples grow. Each child received an apple grown in the orchard.