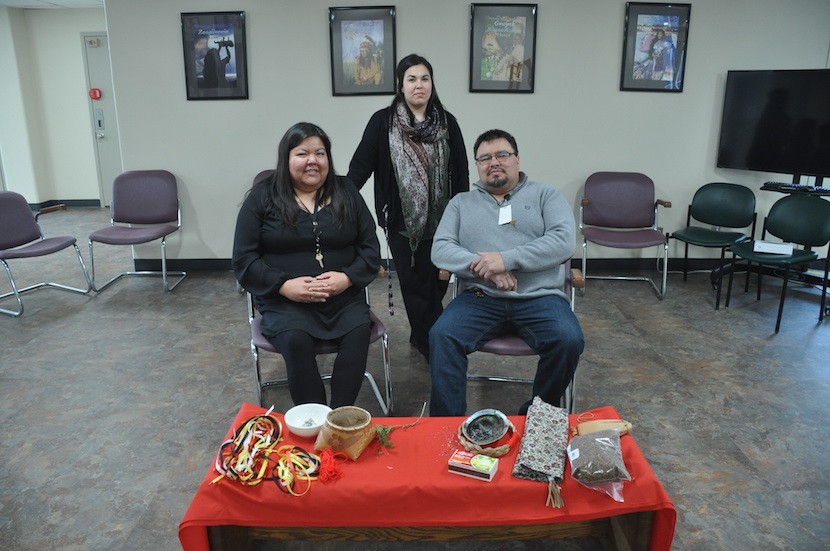 By Brett Larson Inaajimowin Staff Writer
Four Winds Treatment Center in Brainerd has geared its pro- gramming toward Native Americans since its inception. While it has employed Native counselors like Band members Dorothy Sam and Joe Nayquonabe Sr. for many years, the center has taken its Indian-centered mission a step further since the Mille Lacs Band acquired it in 2017.
Three Mille Lacs Band members — Nicole Anderson, Chandell Boyd, and Bob Eagle — are now the heart and soul of Four Winds, and their presence has benefitted clients and the tribal community as a whole.
In addition to the three Mille Lacs Band members, the program employs a Native American licensed practical nurse (LPN), four Native counselor aids, and a second Native cultural advisor.
Nicole is the Treatment Director, giving her a behind- the-scenes administrative role. She works on everything from developing policies and procedures to finances and billing — which are always complicated in healthcare.
Although Nicole is technically at the top of the organizational chart at Four Winds, she prefers a team-oriented, multi-disciplinary approach to management. It follows that Nicole is also quick to seek guidance from those she answers to within the Band's Department of Health and Human Services (HHS), including Behavioral Health Director Crystal Weckert, whom Nicole calls "a great mentor," former Executive Director Noya Woodrich, and Commissioner Rebecca St. Germaine.
"We have a really good team of people who want to be here and who care," said Nicole. "Everyone wants to come to work, and to me that's really important."
Culture is the cure
Chandell Boyd, who has been with Four Winds since May 2017, is one of the center's chemical dependency coun- selors — her first job as a counselor.
"At first I thought I'd be working with the outpatient program, but I just kind of fell into this," said Chandell. "It's been an experience. It's awesome to see how much it has grown."
Things haven't always fallen into place for Chandell; in high school, she was told she wasn't cut out for college, even though she had always planned to go to college to become a teacher or an artist.
Chandell has proven those people wrong time and again, initially earning her AA and working in early education at Wewinabi before finishing her bachelor's degree and making the transition to behavioral health, working a full-time job while earning a certificate in chemical dependency (CD) counseling.
Now Chandell is studying for her master's degree in tribal administration and governance.
Chandell wants to see other young Band members pursue their goals as she has. "If you believe in something, go for it," she said. "Don't let anything hold you back."
Last winter, Chandell and Bob attended White Bison training in Colorado. White Bison/Wellbriety is a Native ap- proach to the 12 Steps program that is being implemented at Four Winds.
"I liked the training and how they infused it with Native American culture and spirituality," said Chandell.
"It made sense to me. Our Road to Wellbriety book says the solution is in the culture. That's the way to healing. Since I have been at Four Winds, I have noticed that a lot of people entering the facility don't know how to pray or how to put out asemaa.
"After so many years of not being able to practice our ways, many people have lost it. I am still learning myself. I'm happy that Bob and Dylan (Four Winds' second cultural advisors) are around now. When I first started, we just had a smudge bowl."
Healing all around us
Bob has been with the center since February of this year, leading the morning smudge before Chandell takes over for a group counseling session. "I try to bring a cultural perspective to our program," said Bob. "Anything that happens throughout the day, I look at it from a cultural standpoint and give any teachings I know." Bob also coordinates cultural activities like sugarbush, sweat lodges with Terry Kemper, and gathering cedar. This summer, clients and staff will take part in activities like manoominike (ricing) and gathering birch bark (wiigwaas).
"There's healing all around us," Bob said. "All living things have spirits, and we're able to use that in our recovery. We don't need a person to confide in; we can go to that Manidoo in that tree or that lake."
Bob brings credibility to the program, not just because he is a Drumkeeper immersed in Ojibwe culture, but also because of his experience with addiction. "I grew up on the reservation around a lot of alcoholism," he said. "The only beacon of light for me culturally was my grandfather, Melvin Eagle. Other than that, everything revolved around drinking and drugs. As I grew up, I had those teachings from my grandfather, and when I decided to sober up, I had that cultural background that grounded me to who I was as an Anishinaabe person."
Bob now tries to share his grandfather's wisdom with clients at Four Winds — not always by speaking, but often just by listening or sharing the pipe.
"I think it's really beneficial for the clients to have trained CD counselors who know how to talk with people," said Bob. "I'm here more for listening and giving feedback. When I give feedback and offer that tobacco, I'm not thinking of what to say. It's just what comes to me. I've never experienced that, but it just happens that way. I assume it's what the Manidoog want me to tell them. I'm always here for one-on-one sessions with my clients. I'll ask them for a pinch of tobacco, we'll smudge and we'll talk, and anything they tell me, it's between them and the Creator."
Work in progress
Nicole brings a similar experience to her job as Treatment Di- rector. "Growing up one of the most important things in my family's life was alcohol, drugs, and partying," said Nicole.
After abusing substances herself, Nicole finally grew tired of the lifestyle, especially after seeing what years of abuse had done to those close to her.
She pursued her bachelor's degree in management but was eventually drawn to the human services field for her master's degree. When she heard about the job opening at Four Winds, she wasn't sure she was ready for it, but she was encouraged to apply and happily accepted the position.
"At first I was nervous," she said. "During my second week with Four Winds, I was asked to attend a community meeting to answer questions about the program. One of the biggest questions was regarding the Rule 25 assessment. I explained why we need the Rule 25 prior to admission, and let the community know that it is to ensure that we can meet the needs of the individual as well as the funding requirements.
"I have also noticed that many people believe that because we are operated by the Band, we have the freedom to do as we please. This is not the case; we are still licensed through the Minnesota Department of Health and the Minnesota Chippewa Tribe, and we lease the facility from the State. Four Winds clients receive consolidated funding, which is federal dollars funneled through the referring agency, county, or tribe. With funds from the state and federal government, there are regulations we must follow."
Four Winds has been averaging 16 clients since December, with an eventual capacity of 24. "It has been very rewarding to see our numbers grow and more referrals come in. Lisa Levig, our intake specialist, works incredibly hard to accommodate potential clients and build relationships with referents."
Nicole said they are receiving a lot of positive praise regard- ing the program. "That being said, Four Winds may not be for everyone. If that is the case, we will work with the referent to find a more appropriate placement for the individual. We want to see everyone who comes through Four Winds succeed."
Despite some of the initial challenges, Nicole is happy to be at Four Winds. "I could not ask for a better team of people to work with. I truly enjoy what I am doing."
As with Bob and Chandell, it is gratifying for Nicole to work in the field of chemical dependency, especially at a facility op- erated by and for Native people.
"The Four Winds team comes to work every day because we want to help people, and that is what makes the difference" she said.
Above: PHOTO BY BRETT LARSON
Chandell Boyd, Nicole Anderson (back), and Bob Eagle bring their perspectives as Band members to their jobs at Four Winds.
Below: SUBMITTED PHOTO
Bob and Chandell attended White Bison training in Colorado Springs last winter. They are pictured with the Sacred Hoop of 100 eagle feathers, which has been carried around the U.S. and Canada to introduce the concept of wellbriety.