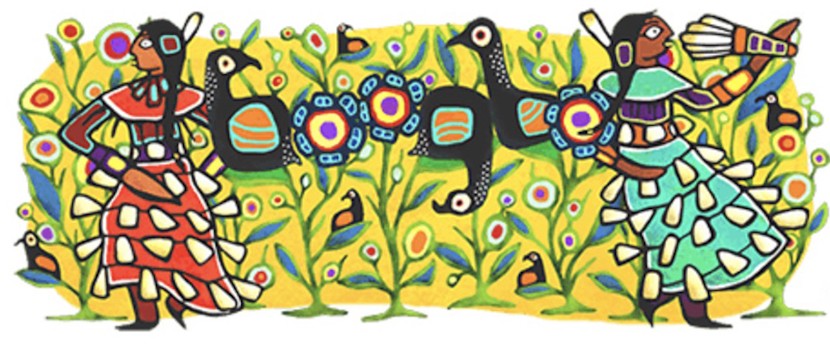 The Mille Lacs Band has been preparing for the centennial of ziibaaska'iganagooday — the jingle dress — for months, if not longer. In May, an exhibit opened at the Mille Lacs Indian Museum curated by Red Lake historian Brenda Child and featuring the work of Band members Steve Premo and Adrienne Benjamin.
But the jingle dress dance took a great step forward June 15 when Google's daily "doodle" featured an image of the dress created by Canadian Anishinaabe artist Joshua Mangeshig Pawis-Steckley.
The doodle coincided with the Grand Celebration Powwow in Hinckley, and news coverage of the doodle on Google, CNN, and elsewhere drew the world's attention to District III and the story of the jingle dress.
The late Larry Amik Smallwood passed along the story of the jingle dress as he learned it, telling of a man at Mille Lacs whose daughter was ill. The man had a dream of the new dance with four dresses adorned with metal cones.
At the drum ceremony, the girl laid on the floor because she was so sick, so he brought out the four women to dance as he had dreamed.
"The drum started, the people began to sing, and the women danced," wrote Amik in a Moccasin Telegraph version of the story. "And the little girl perked up. She lifted her head and watched the women dance. As the evening went on, pretty soon she was sitting up and watching. And before the night was over, the little girl was so moved by those jingles, she was following the women and dancing around."
Several years ago, the Mille Lacs Band and Twin Cities Public Television produced a video featuring Amik's version of the story.
Brenda Child's research shows that the healing tradition arose during the global influenza epidemic of 1918-19.
That tradition has now reached thousands if not millions more thanks to the work of the Anishinaabe storytellers, artists, and scholars who have passed it down through the years.
The jingle dress exhibit at the museum, titled Ziibaaska'iganagooday: The Jingle Dress at 100, continues through October 2020.
Hours are Tuesday through Saturday from 10 a.m. to 5 p.m. Admission is free for Mille Lacs Band members with ID.