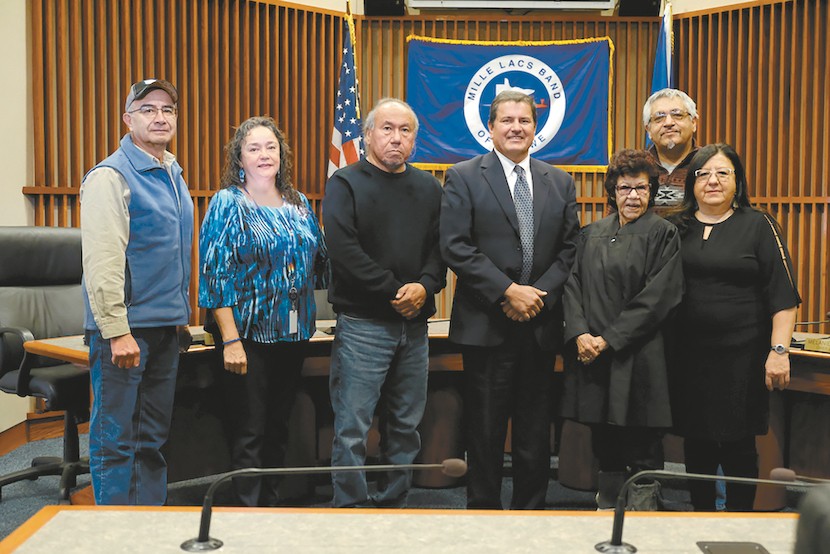 Mille Lacs Band member Mel Towle was sworn in as Commissioner of Finance on December 10 in the Band Assembly chambers at the Biidaabinookwe Government Center in District I. Mel's family, elected officials, and a crowd of well wishers cheered and lined up to congratulate Mel on his new role.
After the Oath of Office was administered by Tribal Court Justice Ramona Applegate, Secretary/Treasurer Sheldon Boyd congratulated Mel on being the first Mille Lacs Band member to serve as Commissioner of Finance in many years. The Office of Management and Budget (OMB), which Mel will oversee, is part of the Legislative Branch. While other Commissioners report to Chief Executive Melanie Benjamin, the Commissioner of Finance reports to Band Assembly.
Chief Executive Melanie Benjamin said she had approached Mel several months ago about applying for the position and was pleased that he had chosen to do so. She recalled the days when Mel worked for OMB, which was located in the tribal government pole building, and water would blow through the vents when it rained.
She also commented on Mel's experience as General Manager of Grand Casinos and Commissioner of Corporate Affairs. "Mel is just a good guy, and that's very important," said Melanie. "As Band members, we want somebody to treat us with respect."
Mel thanked Band Assembly and the Chief Executive for their vote of confidence. "I look forward to doing the job to the best of my ability," said Mel.
Mel graduated from the University of Minnesota Duluth with a degree in finance and minors in accounting and American Indian Studies. He also worked for KPMG, the external auditor for the Band at the time, and for Deluxe Corporation, in addition to posts with the Band.
"I feel like I've always been close to the Band — if not working directly in the family, then always working hard for the family," said Mel. "I'm really excited to be back on the team, so to speak, and also feel like I've never left. I'm thrilled to be back."
Mel was joined at the ceremony by his partner Michelle and daughters Mallory and Camryn. Mel and his family live near Duluth.
Following the ceremony, Band Assembly served a delicious lunch to welcome Mel back to the team.
Photo: Mel Towle took the oath of office from Justice Ramona Applegate in the presence of the Band Assembly and Chief Executive. Left to right: Marvin Bruneau, Sandi Blake, Sheldon Boyd, Mel Towle, Ramona Applegate, Wally St. John, Melanie Benjamin.