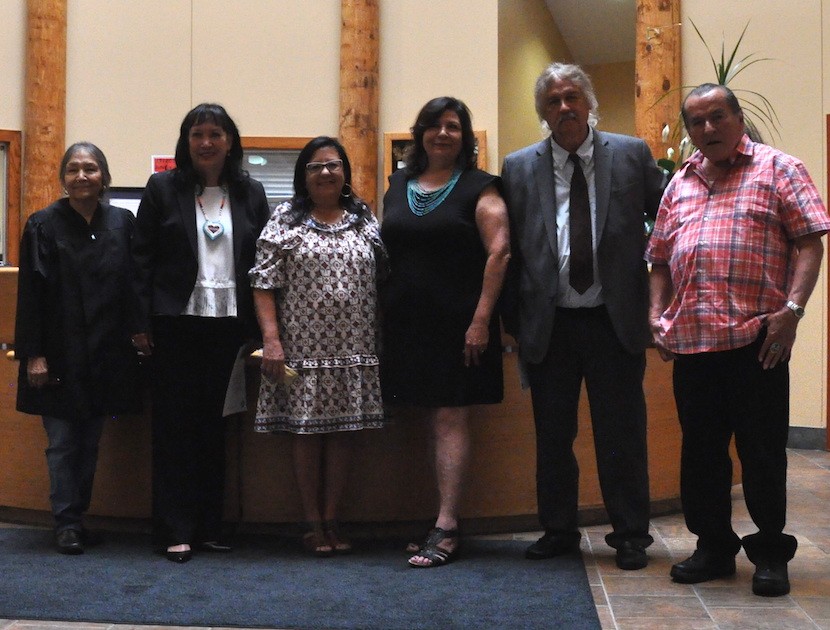 by Brett Larson Inaajimowin Staff Writer
When newly confirmed Education Commissioner Rick St. Germaine was a kid, his ambition in life was being a school bus driver. "I saw a bus driver from our Rez, and I just idolized him," Rick recalled.
Fate had a different plan. "It turned out I was pretty good in basketball," said Rick. "I got recruited to play college ball, and then I realized I could make it in college courses, too."
Rick got his bachelor's degree in Education from the University of Wisconsin Eau Claire and then went on to graduate school at Arizona State University, where he finished in 1975 with a Ph.D. in Educational Administration.
"I had gone to an undergraduate school where there were three Native Americans. I ran into somebody at a meeting who told me there were 670 Indians enrolled at Arizona State. I couldn't even fathom it, so that's where I chose to go."
The connections he made in the Southwest led to a decades-long relationship with the Navajo Nation. Over the years he's worked in school improvement, teacher training, and school board training. He's helped build four Native schools and is working on a fifth.
On July 27, Rick and his wife Rebecca were sworn in as Mille Lacs Band Commissioners — Rick in the Education Department and Rebecca in Health and Human Services. (See page 5 for an article on Rebecca.)
For Rick, it's a little like coming home. During his youth on the Lac Courte Oreilles Reservation in Wisconsin, Mille Lacs had an almost mythical status.
"When I was growing up, the elders on my reservation always pointed to Mille Lacs and told that story of the creation of the sacred drums that came from the Dakota Indians. They always included Mille Lacs in their prayers. I'd hear their stories, and I had a yearning to be here, so when I was asked to come over and help, you can't imagine how it made me feel. It was like something that was destined, that was being fulfilled."
This is hardly Rick's first tour at Mille Lacs. Back in the early 1990s, when Rick was teaching at UW-Eau Claire, the Bureau of Indian Affairs brought him in to do an evaluation of Nay Ah Shing schools and follow up school improvement training. Years later he helped start Minisinaakwaang Leadership Academy in District II and Pine Grove Leadership Academy in District III.
During those years, Rick forged relationships with two men who were instrumental in starting the schools: Mushkooub and Dave Matrious. Both have since passed, but their legacy at Minisinaakwaang and Pine Grove lives on.
"I've made some friends over here — lasting, close associates — and Dave was one of them," Rick said. "He was a real special human being, and there are a lot of them here."
"At Minisinaakwaang, Mushkooub was the moving force, along with Candy and Niib (Aubid), Winnie LaPrairie, Vincent Merrill, Dale Green, and Raina Killspotted. They are dynamic thinkers and movers."
"Joyce Shingobe was my boss, and she taught me a lot," he added.
Rick's deep knowledge of Mille Lacs communities will serve him well as Commissioner of Education, along with his understanding of Native communities as a member of the Lac Courte Oreilles Band.
"The things that I see here, I see on other Ojibwe reservations," Rick said. "I was recently an administrator at the LCO Ojibwe School, and all of the characteristics, data, the poverty conditions of our communities, and the impact on young people are very similar. Our communities are somewhat in crisis, and it will take a monumental effort with everyone working together to solve these problems." 
For Rick, education does not begin with kindergarten and end with high school; he sees the importance of pre-kindergarten as well as higher education. "The 18-24 year olds are really looking for answers in their lives," he said. "We have to give this attention, and soon. They've got academic skill gaps that need to be resolved. Everyone I've talked to says that's one of the main challenges we face."
In the end, Rick believes tribal schools need to provide something of value to students and their communities — starting with innovative curriculum and teachers who care.
In order to get there, Rick emphasizes communication, teamwork and leadership in his work with tribal schools. He has implemented home visits in some communities, and in others has used Montessori-style education as a model, with dramatic results. Fair warning: Under Rick's guidance, school leaders may find themselves blindfolded and led into the woods — literally – as a way to teach leadership and teamwork.
"You can learn a lot of things when you're handicapped," he said. "That's how I started at Pine Grove and Minisinaakwaang. Before long the founders of the schools were finding out how to solve problems and focus their thinking, and doing it as teams. Teamwork is critical. Blindfolds and obstacles are artificial devices we can use to train people to use other senses to get large projects accomplished."
Rick and Rebecca have two college-age boys (Ricky and Mark) who also feel a strong connection to Mille Lacs.
"They grew up around here," said Rick. "They know Obizaan, Joe (Nayquonabe), and Skip Churchill. They've been to Mide here, and drum ceremonies. They have real close friends here. We feel like this is our second home."