In an effort to further the cause of food sovereignty, the Mille Lacs Band recently joined a coalition of tribes from across the nation that are working to improve tribal opportunity, access to programs, and funding in the 2018 Farm Bill.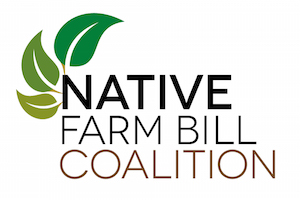 Numerous natural resource programs are operated by the USDA and influenced by the Farm Bill, which is reauthorized every five years. The Native Farm Bill Coalition formed in late 2017 to secure greater parity for tribes in the Farm Bill — the first coalition of its kind in history. More than 60 tribes and tribal organizations have since joined the coalition, aiming for provisions in the next Farm Bill that put tribes on par with state and local governments.
The Farm Bill impacts every aspect of life in Indian Country, including nutrition and food assistance programs, food production, trade and marketing, education and training, natural resource conservation, rural infrastructure, rural economic development, forestry management, finance and credit, and insurance programs. Yet nearly all these programs have by-passed the needs of Indian Country for decades. The coalition aims to organize and amplify Native messages so that Congress can no longer ignore Native voices.
"Tribal governments are best qualified to ensure tribal needs are met in the most productive, culturally fit, and cost-effective manner possible. Tribal control means having statutory authority to adapt programs to each tribe's unique realities," said Ross Racine, co-chair of the Native Farm Bill Coalition and executive director of the Intertribal Agriculture Council. "We are working to achieve this for our members, including the Mille Lacs Band of Ojibwe. We're glad to have the Mille Lacs Band on board."
The Band is especially interested in securing a tribal self-governance demonstration project in the tribal
Farm Bill. This would enable the Band to compact or contract for authority over U.S. Department of Agriculture programs, similar to how the Band can already operate Interior Department programs.
"Ideally, the Band will eventually have self-governance authority to operate the programs of all federal agencies. The USDA is a good department to target next, as a part of our Farm Bill efforts," said Bradley Harrington, Mille Lacs Band Commissioner of Natural Resources.
The Native Farm Bill Coalition is led by the Shakopee Mdewakanton Sioux Community, the Intertribal Agriculture Council, the National Congress of American Indians, and the Indigenous Food and Agriculture Initiative.