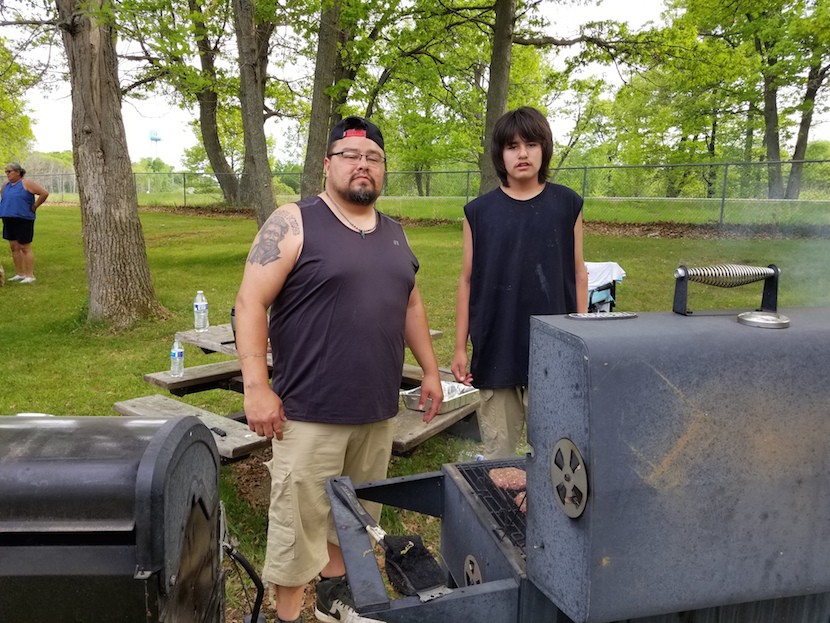 Li Boyd Mille Lacs Band Member
On Memorial Day, grassroots organizers invited community members to gather together for a safe and sober holiday picnic on the shores of Lake Mille Lacs. Ogimaa Giniw provided most of the food after purchasing the beef of a whole cow.
On the weekend before Memorial Day, Ogimaa was preparing to grill at his home and invite a few friends to join him. As the list grew, he reconsidered and decided to postpone his barbecue and just invite everyone. Really, everyone. The announcement went out on Facebook and around 40 people joined him at the lakeside park in District I.
While Ogimaa and his son did the cooking, leaders from Sober Squad and Natives Against Heroin spoke about their eagerness to continue helping those struggling in the community and how much their support systems have meant to them. Ogimaa said it was important to have events like this that are safe, sober, and totally community-driven. Anyone could at- tend, and the incentives were eating good food and building new friendships.
Terry Kemper brought a drum, and a few songs were sung during the afternoon as well. A basketball game and the playground gave the younger folks plenty to do. Ogimaa and other organizers were pleased with the turnout for an event put together with such short notice, and they hope to have more barbecues as the summer goes on.
Photos: The Sober Squad hosted a picnic in District I on Memorial Day, May 28. Ogimaa Giniw (Bob Eagle) and his son Bobby helped with the cooking.