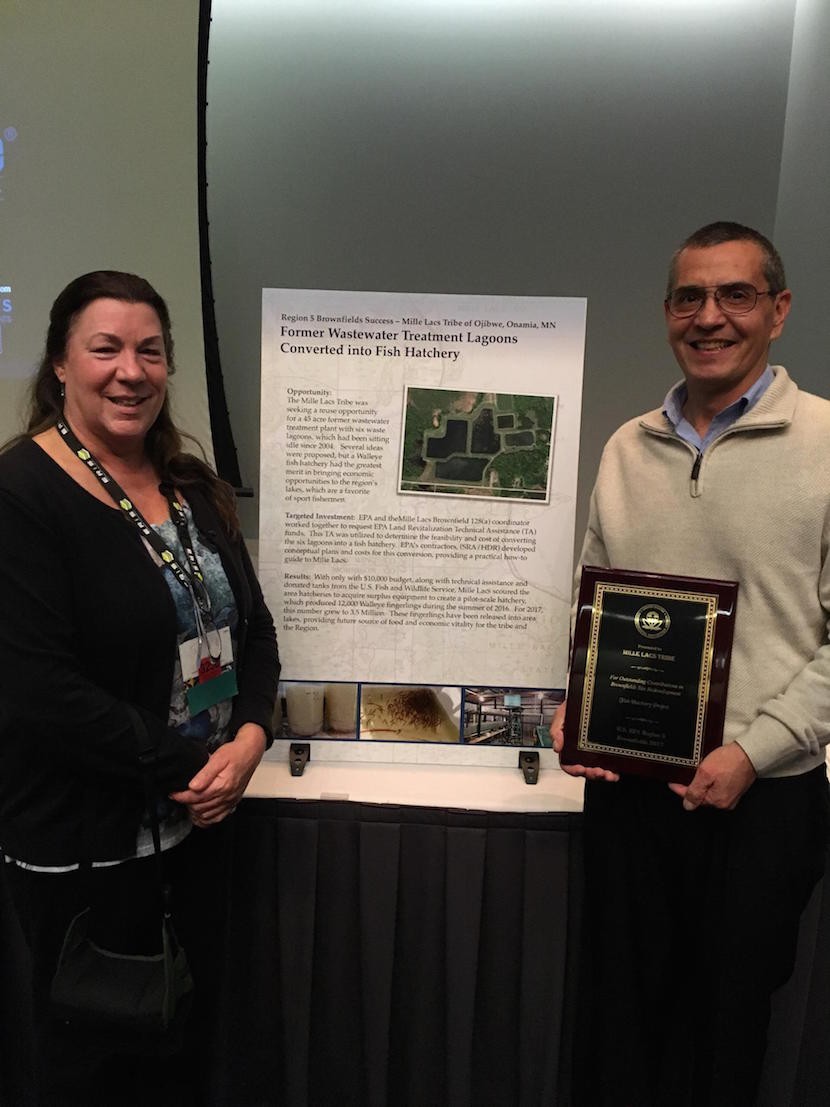 The Mille Lacs Band's Brownfields Program and Department of Natural Resources team received an award for outstanding site redevelopment from the U.S. Environmental Protection Agency at the 2017 Brownfields Conference in Pittsburgh December 5 – 7.
The award recognized the Band's fish hatchery program devel- oped by the DNR in 2016, which redeveloped the old wastewater treatment ponds into a fish nursery.
Walleye eggs taken from speared and netted walleyes were hatched in an indoor facility and transferred to the ponds, where they grew into fingerlings that were used to stock lakes in the region.
The conference exhibit describes the project as follows:
"The Mille Lacs Tribe was seeking a reuse opportunity for a 45-acre former wastewater treatment plant with six waste lagoons, which had been sitting idle since 2004. Several ideas were proposed, but a walleye fish hatchery had the greatest merit in bringing economic opportunities to the region's lakes, which are a favorite of sport fishermen.
"EPA and the Mille Lacs Brownfield 128(a) coordinator (Todd Moilanen) worked together to request EPA Land Revitalization Technical Assistance (TA) funds. This TA was utilized to determine the feasibility and cost of converting the six lagoons into a fish hatchery. EPA's contractors developed conceptual plans and costs for this conversion, providing a practical how-to guide to Mille Lacs.
"With only a $10,000 budget, along with technical assistance and donated tanks from the U.S. Fish and Wildlife Service, Mille Lacs scoured the area hatcheries to acquire surplus equipment to create a pilot-scale hatchery, which produced 12,000 walleye fingerlings during the summer of 2016. These fingerlings have been released into area lakes, providing future source of food and economic vitality for the tribe and the Region."
Congratulations to Brownfield Coordinator Todd Moilanen and others who have been instrumental in the development of the hatchery, including former Commissioner Susan Klapel, current Commissioner Bradley Harrington, and DNR biologists Chad Weiss, Carl Klimah, and Kelly Applegate.
The EPA's Brownfields Program provides grants and technical assistance to communities, states, tribes and others to assess, safely clean up, and sustainably reuse contaminated properties.
Photo: Jan Pels, EPA Region 5 Brownfields Coordinator, and Todd Moilanen, Mille Lacs Band DNR Brownfields Coordinator.