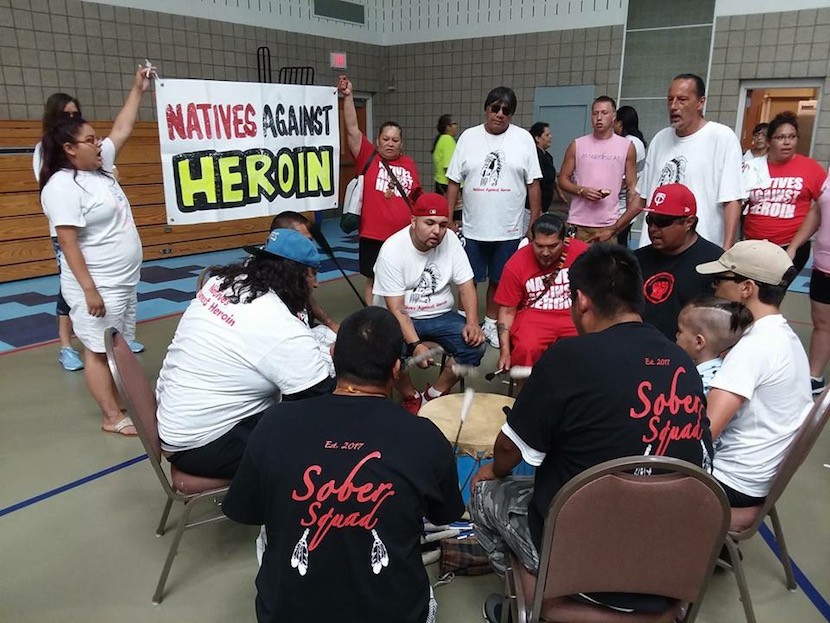 Two grassroots anti-addiction groups — Sober Squad and Natives Against Heroin — have sprung up in Mille Lacs Band communities in recent months.
Although the two groups have different missions, each believes in the importance of the other — as evidenced by a friendly volleyball showdown on July 22 (see below).
At the "Per Cap Patrol" event at Grand Market on July 5, members of both groups were present to discourage drug traf- ficking and offer support to those struggling with addiction.
Luther Sam, a member of the Minneapolis-based Natives Against Heroin, has been instrumental in organizing the Per Cap Patrol and inviting community members to share lunch in support of the group's anti-drug efforts.
Natives Against Heroin (NAH), founded by James Cross, sometimes takes a confrontational approach with dealers, calling them out and pressuring them to leave Native communities. They brought their methods to several District I homes during the fall of 2017 with chants of "Shut it down!"
Luther met James at the first Per Cap Patrol event at Grand Market October 5. The two hit it off and started talking about a Mille Lacs chapter of NAH.
The Per Cap Patrol caught on, and in July dozens of Band members stopped by for lunch, honked support from their cars, or spoke with passers-by about drug addiction and recovery.
Fent VanWert started attending Per Cap Patrol events after several months of getting sober on his own. He is well aware of the significance of what the group is doing. "Every drug dealer around here is responsible for at least one death," he said.
Colin Cash, who also helped organize the first Per Cap Patrol, came by to show support. "I consider Luther a member of Sober Squad," said Colin. "He wants to take the Natives Against Heroin route, and I want to support him and his vision. That's Luther's avenue. They're more about driving the drug dealers out; we're more about sobering them up."
Luther clarified: "We don't want to have to drive them out. We first want to offer help. Most of the time it's family or close to family. It's someone we know. So it's not about driving them out."
Sober Squad
When Colin got out of treatment, there weren't many options for support in District I. "I did not want to come back to Mille Lacs, but this is where the path took me," said Colin. "There was just one support group, and my whole first year, nobody showed up. I was poring through Facebook, trying to find others in recovery. When I was a year clean, another person showed up, and then another, and then another. I wanted to get us t-shirts, and we were talking about what to put on them. Somebody said, 'Sober Squad.'"
The name stuck, and a movement was born. Now there are 111 people in their group chat, with about 15 active members who attend regular meetings in District I, Brainerd, and Crosby. Chapters have sprung up in Grand Rapids and Fond du Lac, and they're attracting non-Indians as well as tribal members.
"It's not just a Native thing," Colin said. "It's mending bridges with outside communities, helping each other no matter where you come from or what you look like."
Two dozen members marched in the Onamia Days parade. Squad member Gary Benjamin is doing weekly groups at Four Winds Lodge treatment center in Brainerd, and other members speak at Four Winds monthly.
Colin has been in high demand as a speaker. He's been to events around Minnesota and recently traveled to Utah to share the story of Sober Squad. Squad members will attend the Tribal Opioid Summit at Fond du Lac August 7–8 and present at the Annual Minnesota American Indian Mental Health Conference at Shooting Star August 14–17.
"What we have is unique," Colin said. "It's working here in Mille Lacs in the worst possible environment, and it's setting a precedent. If it can work here, it can work anywhere."
Sober Squad members give rides to detox and treatment, host sweat lodges, attend sobriety feasts, or just enjoy hanging out with other sober people — eating pizza after a meeting, going tubing in the winter, or watching the fireworks.
"There's no excuse for you not to get better because we will help you," Colin said. "When somebody asks us for help, we just go crazy. Transportation used to be a huge barrier, but now you have a group of addicts in recovery filling those gaps. "The one thing we offer is hope. When people see hope in someone's eyes, it empowers them."
Elaine Rea, a Mille Lacs Band member with many years of sobriety, is proud to be affiliated with the group. "It's good just to be sober and socialize," she said. "A lot of people stop us and say 'So you're Sober Squad.' We're getting to be well known, which is pretty great."
Difference makers
Two of those in attendance at the July 5 Per Cap Patrol event — Jaime and Randell Sam — credit Sober Squad with helping them stay clean.
Jaime said, "I've been with Sober Squad for coming up on six months now. I was clean about three or four months before Randell reached out and asked for help..."
Randell finished her thought: "...And she pointed me in the right direction. I owe Sober Squad everything I've got going on right now."
Randell was taking drugs to deal with the pain and lack of energy caused by diabetes. "On March 17 I woke up and said, 'I'm tired of that shit.' I started getting that urge again, so I messaged my cousin (Jaime) and said 'How did you do it?' She said 'Sober Squad.'"
As of July 5, Randell was 108 days clean. "I don't have the urge to use anymore, but after 33 years of using, trying to fix it in 108 days, it's impossible. I'm going to spend the rest of my life fixing those problems."
Fortunately, he has help this time. He points to Fent, who is manning the grill. "When I found out he's seven months sober, I couldn't believe it. We used to use together, and now he's happy. He's out here smiling and spreading the word. I never thought I'd see this. I go to sleep happy now. I notice a butterfly and say, 'Oh, how pretty!'" He paused to consider the strangeness of what he was saying. "What the hell am I thinking?" he said with a grin.
Randell gestured to the Grand Market parking lot, where there wasn't a dealer in sight. "Without Sober Squad and Natives Against Heroin there would be all kinds of action going on here," he said. "I saw one of the main players and asked him how he was doing. I gave him an ear beating for a half hour, then gave him a hug. If we could get this dude on our side, that would show we're doing something."
Photos: Our two local grassroots anti-drug groups came together at the District I Community Center July 22 for a friendly volleyball contest and smudge walk.