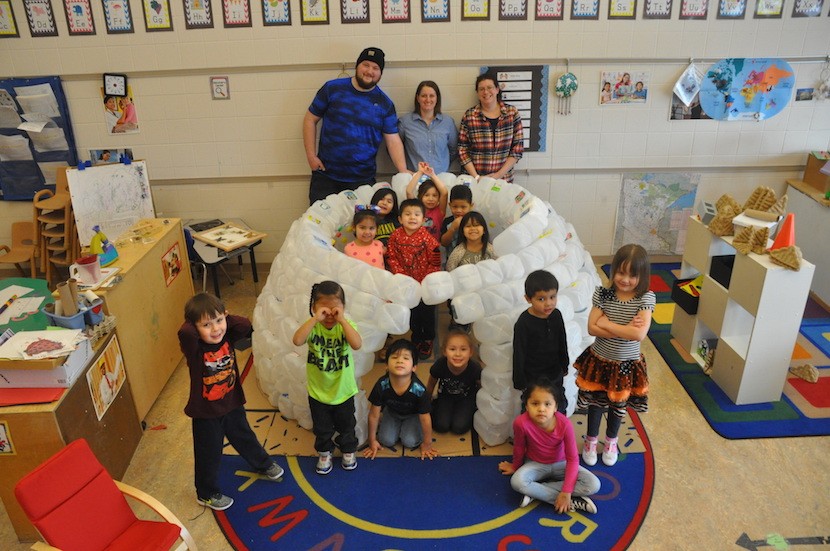 "Culture" and "Chemistry" are unfamiliar terms to the preschoolers in Beth Nohner's Head Start class at Wewinabi Early Education in District I.
But thanks to an igloo built of donated milk jugs, they're beginning to understand how ice melts into water, and how their Indigenous relatives to the north build homes out of ice.
Beth discovered the project on Pinterest and shared it with a friend, who said she had a pile of milk jugs that could get her started. 
With help from assistant teachers Dylan Peterson and Sian Marquardt, Beth got to work. Donations have been pouring in, and the project was finally completed on February 20.
Since it's built with a hot glue gun, the kids don't get to pitch in on the labor. They don't seem to mind, though. Like most three- to five-year-olds, their thoughts are more on play than work.
Don't tell the kids, but at Head Start, work and play go hand in hand.
Beth says Head Start takes an integrative approach to education — teaching math, reading, science, and social studies concepts in ways that preschoolers understand.
The lessons haven't all sunk in yet, though. One student, when asked who lives in igloos, answered, "Penguins."
It wasn't exactly wrong; one of the books she's been reading features a penguin that lives in an igloo.
(There might be a geography or biology lesson hiding in that igloo as well.)
Beth has been teaching at Wewinabi for eight years. She loves her job, her students, and the community, and she can't imagine teaching anywhere else.
This was her first teaching job after she graduated from St. Cloud State. "And it will be my last!" she adds.
The Band offers six Head Start classrooms in District I and one each in Districts II and III, in addition to Early Head Start.
Photo: The Migizi class is taught by Beth Nohner, center back, with help from assistant teachers Dylan Peterson and Sian Marquardt.