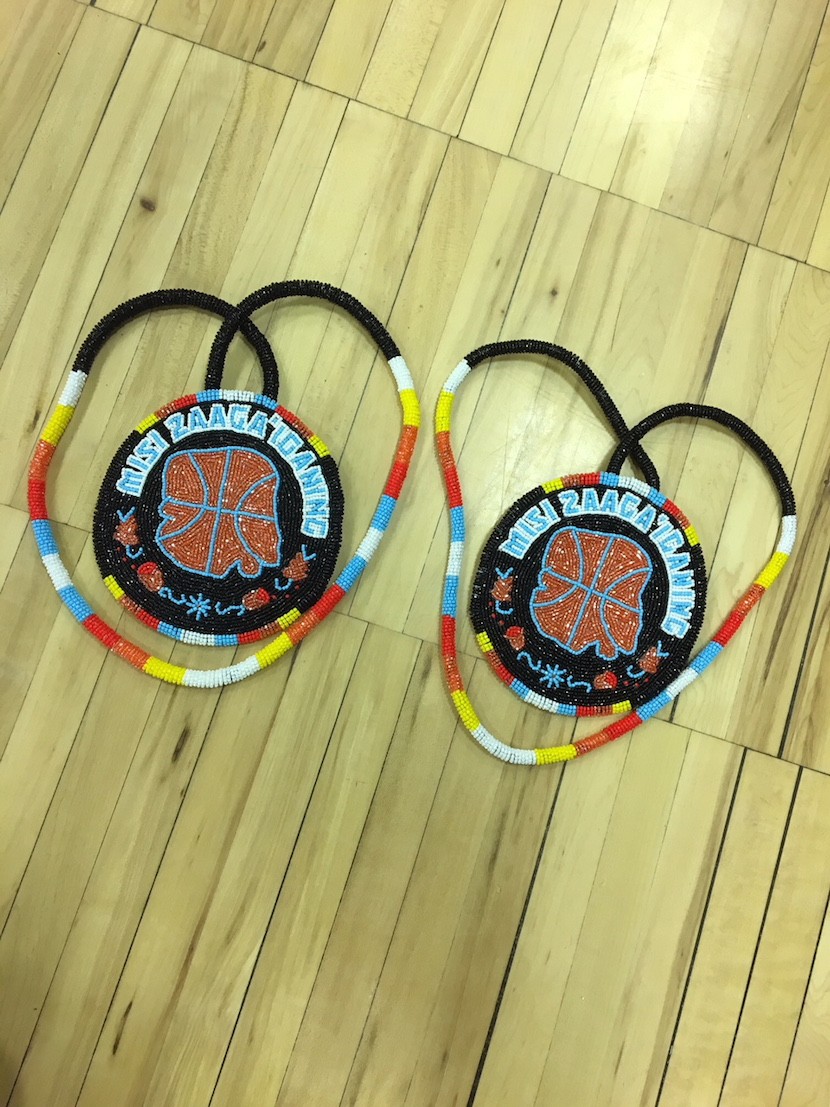 "Amikogaabawiikwe" Adrienne Benjamin Mille Lacs Band Member
Over the course of a weekend in April, well after the basketball season had "officially" closed and state champions had been crowned, Onamia Public School's gymnasiums filled with the sounds of "Rez Ball" — cheers, laughter, and high-energy basketball for the community and its young people to bear witness to the beauty of the game.
The Misi-Zaaga'iganing All Native Basketball Tournament hopes to achieve many things for our community, by showcasing highly skilled athletes in both the high school boys' and men's division (with former college athletes and Indian Country All Stars) giving a glimpse into the work necessary to succeed in sports as well as in the classroom. The student athlete experience is something that can transcend the confines of the field and help a person grow mentally, physically, and socially.
The tournament field was host to local teams from the Mille Lacs Band of Ojibwe as well as the Meskwaki Nation (Iowa), Standing Rock Sioux Tribe (North Dakota), Seneca Nation (New York), Winnipeg (Manitoba) Winnebago Tribe of Nebraska, Leech Lake Band of Ojibwe (Minnesota), and Red Lake Nation (Minnesota). Players came from as far away as Portland, Oregon and Phoenix, Arizona. The tournament field offered a wide array of talented players for the enjoyment of all who attended.
Chris Nayquonabe, Basketball Tournament Director and Onamia Public School's American Indian Education Director, talked of the importance of athletics and her department's sup- port for this venture. "The school community, staff, and students need events like this to bridge the gap between student and athlete. Many of the students I work with have noticed the inclusive nature of a basketball tournament and see themselves as a part of the game. It not only opens their views to the possibility of joining a team, but they know they can be a valuable contributor with hard work and dedication. In the past year since our initial tournament, I have noted the impact it has had for our boys and girls in joining and completing their respective season. One student in particular who worked on his game, with summer leagues and time spent in the gym, played heavily on our JV boys basketball team this past year and sat varsity, that's what it's all about."
Byron Ninham, Games Manager and Mille Lacs Band of Ojibwe Niigaan Director, noted the high school division and the competitive nature of the athletes in attendance. "We were very fortunate to have our local teams from Mille Lacs play against the boys from in-state and out of state. It's not very often we get the opportunity to host state tournament teams in our community, but that's our goal to have state tournament teams of our own. It takes seeing it and community engagement to support our boys and girls. Our boys' championship game was a tight contest between Bago Elite (Winnebago HS) and The Sota Boyz (Cass Lake-Bena HS), two state tournament teams from this past year. The game was back and forth, and one thing I noticed as an observer and fan of the game: Those boys played just as hard and competed as they would at the state tournament in front of thousands of fans, as they did for our fans in the gym that day. It was a joy to watch."
Joe Nayquonabe Jr., Commissioner of Corporate Affairs, was in attendance all weekend and shared his observations of the event and its impact: "Role models from across the country and locally were on full display over the course of the weekend. It was great to see our young men and women getting the opportunity to see people compete and achieve at a high level. These events help inspire and motivate our youth to get out and do something positive. The values created by being part of a team are things that can help in and out of sports competition."
The High School Boys division championship game between Bago Elite and The Sota Boyz was one for the books. Bago Elite came away with the championship with a 69-62 win, and the game saw many lead changes until the last two minutes. Makoonce Littlevoice broke a 62-62 tie with a top-of- the- key three-pointer to put Bago Elite up by three, and they would not relinquish the lead. A great contest played by both teams and all teams in the high school division.
First through fourth for the tournament: 1st — Bago Elite, 2nd — The Sota Boyz, 3rd — North Dakota Icemen, and 4th — Circle of Life Academy. All Stars and MVP players included Riley Hodgekins (ND Icemen), Arnold Kingbird and Nate Seelye Jr. (Sota Boyz), Manape Cleveland and Ben Lovejoy (Bago Elite), and MVP D'Von Lapointe (Bago Elite).
The Men's tournament had some local flare with teams from Mille Lacs, Leech Lake, Red Lake, and Minneapolis, and travelers from as far away as New York and Canada. The championship was decided between Iron Boy (MN) and Sen- eca Nation Basketball (NY), and both teams touted former college athletes and foremost graduates who continue to play this game that they love in their free time. Iron Boy came away with the win after a sluggish first half by both teams; Seneca Nation battled until the very end but succumbed to Iron Boy, 92-69.
First through fourth for the Tournament: 1st — Iron Boy, 2nd — Seneca Nation Basketball, 3rd — Midwest Posse, 4th — Winnipeg Warriors. All Stars and MVP players included Duke (Midwest Posse), Terrence TuTu and Darren Six (SNB), JR Gunville and Wayne Runnels (Iron Boy), and MVP Justin Mc- Cloud (Iron Boy).
Tournament organizers would like to acknowledge all those who contributed their time and efforts to the weekend's events: Anthony Buckanaga, Mille Lacs Band Department of Athletic Regulation, State Health Improvement Plan (SHIP) through Mille Lacs Band (Darla Roache), Mille Lacs Band Commissioner of Education Dr. Rick St. Germaine, Onamia Public Schools, District I Representative Sandra Blake, District II Representative David "Niib" Aubid, Branden Sargent for the beautiful MVP medallions, as well as the students and adult staff who made the event happen.
Photos
Above: MVP medallions were made by Branden Sargent.
Below, top to bottom: High School MVP Dvon Lapointe, High School division all-stars, Men's all-stars, Men's MVP and 3-point contest winner Justin McCloud, Men's division champs Iron Boy, High School champs Bago Elite. Pictured with all-stars and champs: tournament organizers Chris Nayquonabe and Byron Ninham.