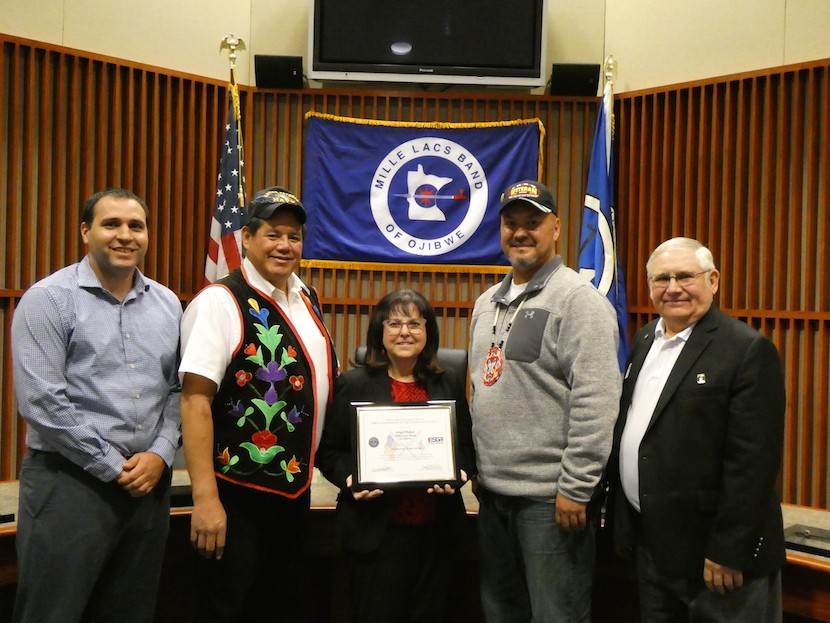 Sergeant Major Bob Boone presented a Patriot Award on March 14 to Managing Attorney Angel Daher, center, of the Mille Lacs Band of Ojibwe Solicitor General's Office.
The OSG's office was nominated by Attorney Adam Candler, who is a National Guard member. Employees serving in the National Guard or Reserve, or the spouse of a Guard or Reserve member, may nominate individual supervisors and bosses for support provided directly to the nominating Service member and his or her family.
The Patriot Award reflects the efforts made to support citizen warriors through a wide range of measures including flexible schedules, time off prior to and after deployment, caring for families, and granting leaves of absence if needed.
Also pictured above are Band member veterans Allen Weyaus, second from left, and Tony Pike, fourth from left.
Below: Joining Angel and Adam for the presentation were OSG staff members Tasha Schmitz, Elizabeth Murphy, Barb Johnson, Michael Hogan, Amy Weisgram, and Kaitrin Vohs.